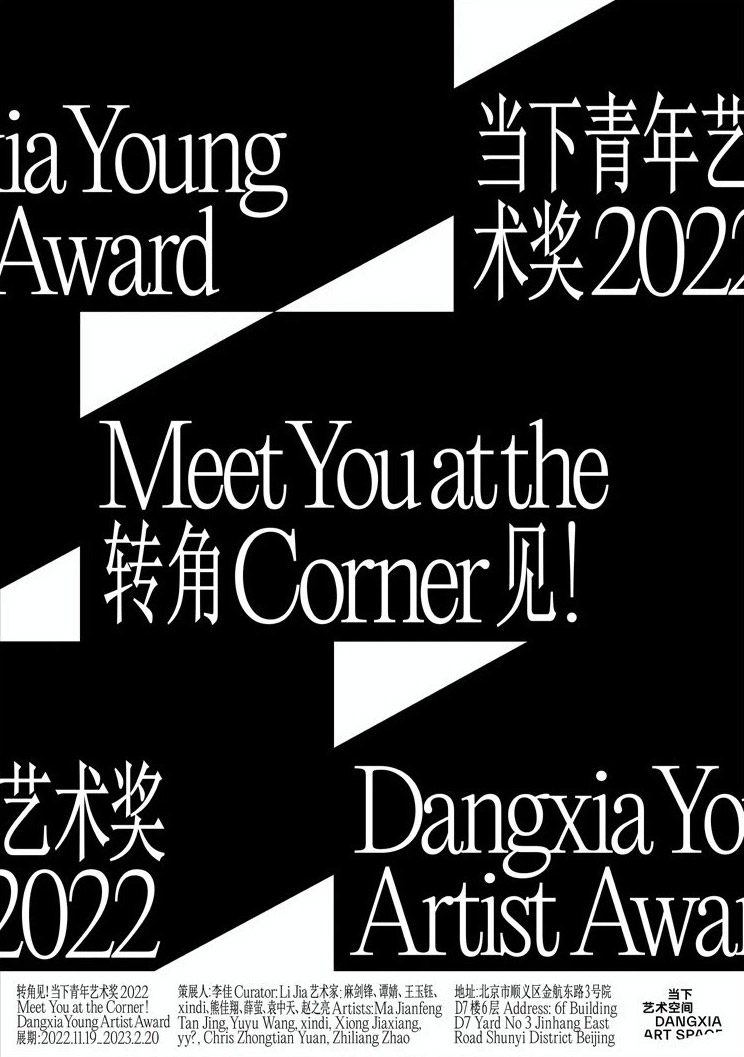 The first edition of Dangxia Young Artist Award 2022
 "当下青年艺术奖"是当下艺术空间发起并主办的公益性艺术奖项,旨在支持和激励青年艺术家在当代中国和国际语境下持续进行创作和实践,助力独立于市场体系外的、自主和自由的艺术实验与探索。"当下青年艺术奖"将评奖、展览和未来创作扶持等方式结合,希冀呈现当下艺术的前沿面貌,为青年艺术家搭建展示、交流、学习和分享的有效平台,助力中国当代艺术的未来发展。本奖项不以性别、国籍、地区、创作媒介等为遴选标准,期冀以相对宽松的举荐范围,让更多有潜力和决心的优秀艺术家得到展示、交流和成长的机会。
从2022年开始,当下艺术空间将每年邀请5位活跃在当代艺术前沿的专业人士担任奖项提名人,从45岁以下的众多中国和华裔青年艺术家中择优举荐。被提名艺术家一经举荐即成为奖项候选人,作为当下青年艺术激励计划的持续关注对象,当下艺术空间将通过个案研究、对话、推介、展览等方式助力艺术家的成长发展。
奖项将特邀策展人根据年度主题,邀请部分被提名艺术家参与同年于北京当下艺术空间举办的专项展览。展览对于艺术家的选择仅体现当年策展主题,并不反映奖项主办方或评审方对于艺术家的态度和判断。
在展览结束后,主办方将秉持专业、公平和权威原则,邀请来自中国和全球的3位资深专家组成评审委员会,从全部被提名的候选艺术家中,根据后者依规则提交的资料,评审出二位艺术家授予"当下青年艺术奖",并予以奖金鼓励。
"Dangxia Young Artist Award" is a public art award initiated and hosted by DANGXIA Art Space. It aims to support and inspire young artists to continue their practice and experiments in contemporary Chinese and international contexts and to facilitate independent, autonomous, and liberal artistic experiments and explorations beyond the market.
By integrating the award jury, exhibition, and support for future art creation, the Dangxia Young Artist Award aims to present the most cutting-edge contemporary art, build an effective platform for young artists to showcase, exchange, learn and share, and help the future development of Chinese contemporary art.
The Dangxia Young Artist Award does not set standards on gender, nationality, region, or creative medium. It aims to provide a relatively broad scope of nominations so that more outstanding artists with potential and determination can showcase, communicate and grow.
Starting in 2022, DANGXIA Art Space will invite five professionals active at the forefront of contemporary art to serve as nominators for the award each year, choosing from a wide range of young Chinese artists, at home and abroad, under 45 years of age. Once nominated, the nominees will become candidates for the award, receiving continuous attention and support from the Dangxia Art Space through case studies, dialogues, presentations, and exhibitions and assisting the artists' growth and development.
The Award will invite a curator to bring together some of the nominated artists to participate in a special exhibition at DANGXIA Art Space in Beijing in the same year based on the annual theme. The selection of artists for the exhibition only reflects the year's curatorial theme. It does not reflect the attitude and evaluation of the award organizer or jury on the artists.
After the exhibition opens, the organizers will uphold the principles of professionalism, fairness, and authority and invite three seasoned experts from China and overseas to form a jury in selecting two artist finalists for the "Dangxia Young Artist Award" among all the nominees, based on the information submitted by the latter. The organizer will provide financial incentives to the recipients.